Home
Talk

0
57pages on
this wiki
Welcome to the Anohana Wiki!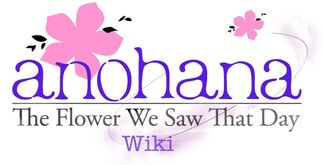 Summary

✿ View All Pages ✿ Recent Changes

A group of six childhood friends, including Chiriko "Tsuruko" Tsurumi, Atsumu "Yukiatsu" Matsuyuki, Naruko "Anaru" Anjou, Tetsudō "Poppo" Hisakawa and Jinta "Jintan" Yadomi, drift apart after one of them, Meiko "Menma" Honma , dies in an accident. Ten years after the incident, the leader of the group, Jinta Yadomi, has withdrawn from society and lives as a recluse. One summer day, the ghost of an older looking Menma appears before him and asks to have a wish granted, reasoning that she cannot pass on into the afterlife until it is fulfilled. Since Menma does not remember what her wish is, Jinta gathers his estranged friends together once again, believing that they are the key to resolving this problem. However, hidden feelings, internal conflicts, and lingering feelings of bitterness from Menma's parents result in complications for the group as they struggle to help not only Menma move on, but themselves as well.
Poll
Which character is your favorite?
News
The new Anohana Movie was released on August 31, 2013 in Japanese theaters! Keep your eyes out for the subs everyone!
An Anohana themed train will be running through Chichibu, Saitama to celebrate the release of the movie click here to check it out!
"Circle Game" by Galileo Galilei, is the new opening for the rebroadcast of Anohana.
Wikia News!
The wiki has gained another admin and I'm very happy to be able to help out. Seeing as I'm a fully advanced wikia editor, please come to me when you need a template to be coded or a problem to be fixed. The background, icon and templates on the wiki were updated, so will be the other pages. I'll make sure to add pages for merchandise, etc. as well!
Everyone who wants to become an editor or has questions to the wiki rights, please contact ShyShadow and don't hesitate to comment or ask about anything!
KiwiLapis October, 15, 2013